About Our Baton Rouge Electricians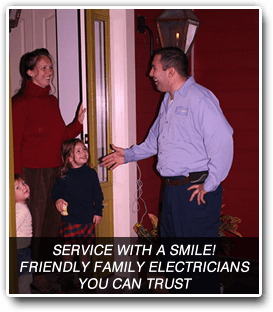 MK Electric Man is dedicated to providing all of our clients with excellent workmanship and high quality service to help them keep their electrical systems in the best condition possible. Your electrical system plays a huge role in keeping your home comfortable and safe, so it's important that your electrical system is always functional and reliable. Our electricians are always ready and eager to provide you with the highest quality workmanship possible, and we'll do whatever it takes to make that you're totally satisfied with all of the services that we provide.
We believe that building a good name is better than gold, so we strive at every job to make sure that we're meeting all of the needs of our customers. We're proud that a large portion of the clients we work with found us through recommendations from friends and family, and at every job, we try to make sure that our reputation is well-earned.
We provide a wide range of professional electrician services to home and business owners throughout Baton Rouge and the surrounding areas, and we look forward to assisting you with any electrical problems you encounter.
Our Electrical Services Include:
Recent Electrical Articles
As the owner or operator of a commercial property, you have a duty to keep your property safe for your employees, customers, or tenants. Our commercial electrical maintenance services will help you know that your property is always as safe as possible. Even the smallest problems with your commercial electrical system can lead to huge safety concerns, and it's likely that you'll be held responsible for any injuries that occur on your property.
Read More
Electricity is one of the most convenient parts of modern life, but because it's so integral to our everyday lives, it's easy to forget just how dangerous it can be. Electrical systems are a huge part of the comfort and functionality of our homes, but if they're not kept in the best condition possible, they can become major hazards. Keeping your Baton Rouge home's electrical system in great condition needs to be one any homeowner's biggest priorities. Making sure that your electrical system is in the best condition possible can go a long way towards preventing an electrical fire.
Read More
If you're looking for an electrician in Baton Rouge, call MK Electric Man at 225-709-0573, or fill out our online request form.