Commercial Electrical Services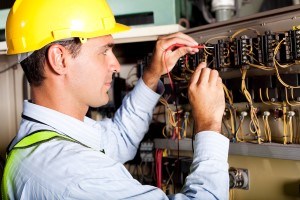 When you have any commercial building in Baton Rouge or the surrounding areas that needs electrical services performed, you can count on the professional, expert Baton Rouge electricians at MK Electric Man. Whether it's a new construction, and addition, or an existing property that needs repairs, we have the training, expertise, and experience to guarantee you the best in quality workmanship.
From wiring a commercial building to troubleshooting manufacturing production lines, our electricians have done it all, and with over 22 year of experience in the field, you can trust to with any of the work that you need done. We'll always use flat-rate pricing, and we'll get the job done as quickly as possible, without sacrificing any quality in favor of speed.
Our Commercial Electricians Provide the Following Services:
Electrical Wiring Repairs and Installations
Ground Fault Circuit interrupters
Outlet Repair
Lighting Repairs
Surge Protection
Electrical Distribution Systems
Emergency Power Systems and Generators
Fire Alarms and Emergency Systems
High Voltage Distribution
HVAC Control
Instrumentation and Control
Lighting and Dimming Systems
Lighting Protection System
Low Voltage Cabling: Voice, Data, TV, Gaming, Security, AV Equipment
Security and Surveillance
Telephone and Television Systems
High Voltage Lighting
Motor Controls
Three Phase Electrical Panels
Three Phase Circuit Breakers
Three Phase Wiring
Three Phase Electric Meters
Three Phase Feeders
Three Phase Equipment Installation
Professional Commercial Electricians
Our electricians are all background checked, professionally trained, licensed, and extensively experienced. So we can guarantee excellent workmanship at every job we perform. We'll get the work done promptly and professionally, always within your time-frame and budget, and we'll make sure that all of our work is accurate and thorough.
We know how important the electrical system of your Baton Rouge business or commercial construction is, so we'll make sure that you're always getting the best service possible.
Commercial Wiring
Keeping your commercial property's electrical wiring in great condition is tantamount to keeping your property safe and your equipment functional. Our professional commercial electricians will inspect your wiring and do whatever it takes to make sure that your electrical system is totally reliable and completely safe.
Restaurant Services
Restaurants use a lot of specialized equipment, and it's important that that equipment is always ready to function safely and operate well. Electrical appliances like walk-in coolers, freezers, grills, hood vents, and more all need to be professionally installed and maintained. Our Baton Rouge electricians will be be able to ensure that your restaurant's electrical system is in great shape.
Recent Electrical Articles
As the owner or operator of a commercial property, you have a duty to keep your property safe for your employees, customers, or tenants. Our commercial electrical maintenance services will help you know that your property is always as safe as possible. Even the smallest problems with your commercial electrical system can lead to huge safety concerns, and it's likely that you'll be held responsible for any injuries that occur on your property.
Read More
Electricity is one of the most convenient parts of modern life, but because it's so integral to our everyday lives, it's easy to forget just how dangerous it can be. Electrical systems are a huge part of the comfort and functionality of our homes, but if they're not kept in the best condition possible, they can become major hazards. Keeping your Baton Rouge home's electrical system in great condition needs to be one any homeowner's biggest priorities. Making sure that your electrical system is in the best condition possible can go a long way towards preventing an electrical fire.
Read More
If you're looking for a commercial electrician in Baton Rouge, call MK Electric Man at 225-709-0573, or fill out our online request form.