Aluminum Wiring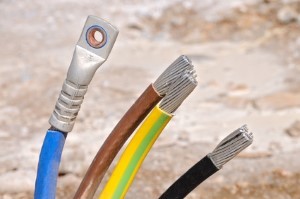 Aluminum wiring was at one point widely accepted as safe for use, but while it isn't necessarily dangerous, it certainly can be. Not only is there a potential for a safety hazard, but insurance companies often won't write a policy for homes with aluminum wiring. On top of that, aluminum wiring is one of the most inefficient forms of wiring that you can have.
If there is aluminum wiring in your home, call MK Electric Man today. We can inspect your wiring and make sure that it's totally safe and effective. If your electrical wiring is problematic, we can help you decide whether you should repair or replace it.
What Makes Aluminum Wiring Unsafe?
While aluminum wiring itself is not unsafe, aluminum has a tendency to oxidize very quickly. Because of that, it can start to rust and deteriorate in as little as one day. That deterioration, in turn, leads to overheating, which can lead to a house fire.
Aluminum wiring is also softer and more malleable than copper wiring, which makes it more susceptible to damage.
As aluminum wiring heats up, it expands. This thermal expansion means that the wiring can change shape at the terminal screws, which can cause it to come loose and/or disconnect.
In the 60s and 70s, aluminum wiring was very widely used. However, by the late 70s, many homes were already making the transition to copper. Most likely, if there's aluminum wiring in your home, you need to have at least parts of your wiring replaced. Our Baton Rouge electricians can inspect your home's wiring and help ensure that it's as safe and effective and possible.
Aluminum Wiring Inspections
Even if you have aluminum wiring in your home, you don't necessarily need to have it completely replaced. Our electricians can inspect your Baton Rouge home's electrical system and its wiring to help you determine whether you need any, all, or part of it replaced. Aluminum wiring fails at connection points more frequently than copper wiring does, but it is mostly safe for distribution, even in newer homes.
Aluminum wiring isn't a major safety hazard until it's used for branch circuit wiring. Branch circuit wires are the wires that feed into your switches, plugs, and lighting fixtures. Aluminum wiring is still commonly used for larger feeders that provide energy to things like air conditioners. Our electrical safety inspection will help you determine whether your aluminum wiring is problematic.
Recent Electrical Articles
Electrical repairs aren't just difficult—they're also very dangerous. Without professional experience, you run the risk of damaging your property, and you can also seriously injure yourself or someone else. On top of that, you may be legally required to have a permit before you perform any electrical repairs on Baton Rouge home.
Read More
As the owner or operator of a commercial property, you have a duty to keep your property safe for your employees, customers, or tenants. Our commercial electrical maintenance services will help you know that your property is always as safe as possible. Even the smallest problems with your commercial electrical system can lead to huge safety concerns, and it's likely that you'll be held responsible for any injuries that occur on your property.
Read More
If you're looking for aluminum wiring replacement or repair services, call MK Electric Man at 225-709-0573, or fill out our online request form.