Hood Vent Systems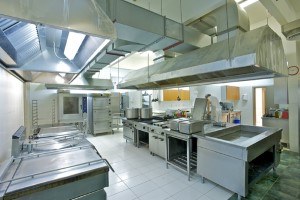 Hood vent systems are an extremely important part of any professional kitchen. Without a proper hood vent system, your kitchen can be very uncomfortable, and it may even be dangerous. Our professionals can help you select the right hood for your kitchens and install, repair, or maintain them as needed.
Commercial kitchens and restaurant kitchens are constantly battling smoke, fumes, odors, vapors, moisture, and grease, so proper ventilation is extremely important for any kitchen. Commercial exhaust hood vent systems are a mandatory requirement for all restaurants, and the Baton Rouge electricians at MK Electric Man can make sure that your hood vent systems are always as reliable, functional, and efficient as possible. We know how important hood vent systems are to your restaurant, so we'll provide you with the highest quality workmanship possible, and we always guarantee your complete satisfaction with our services.
Commercial Kitchen Hood Installation
Installing a commercial hood vent system should always be a job that is left to a licensed, professional electricians. Commercial hoods can be more complicated to install than they appear, and the installation process typically requires many electrical connections and fire suppression systems. Only a qualified electrician will be able to ensure that your commercial hood vent system is effective and safe-for-use after the installation.
Hood Vent Codes and Regulations
Our Baton Rouge electricians will be able to ensure that your hood vent system is totally up to code. Some important codes for hood vent systems include:
The size of a commercial hood must be at least six inches longer or wider at every side than the cooking surface it's intended to cover.
A Type 1 hood is required for any kitchens that use grease-producing cooking methods or appliances. Type 2 hoods are required for kitchens without grease-producing cooking methods.
Automatic fire suppression systems are required for any commercial kitchens. Our electricians will be able to ensure that your fire suppression system is totally functional.
Hood Vent Repairs
If your hood vent system is ineffective or malfunctioning, contact our Baton Rouge electricians for prompt and professional service. We'll be able to find the cause of any problems that you encounter and repair them thoroughly.
Recent Electrical Articles
As the owner or operator of a commercial property, you have a duty to keep your property safe for your employees, customers, or tenants. Our commercial electrical maintenance services will help you know that your property is always as safe as possible. Even the smallest problems with your commercial electrical system can lead to huge safety concerns, and it's likely that you'll be held responsible for any injuries that occur on your property.
Read More
Electricity is one of the most convenient parts of modern life, but because it's so integral to our everyday lives, it's easy to forget just how dangerous it can be. Electrical systems are a huge part of the comfort and functionality of our homes, but if they're not kept in the best condition possible, they can become major hazards. Keeping your Baton Rouge home's electrical system in great condition needs to be one any homeowner's biggest priorities. Making sure that your electrical system is in the best condition possible can go a long way towards preventing an electrical fire.
Read More
If you're looking for hood vent system services in Springfield, call MK Electric Man at 225-709-0573, or fill out our online request form.