Surge Protection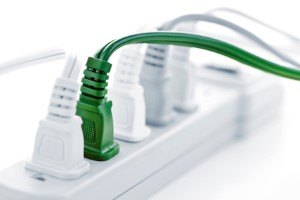 If you've noticed even the slightest flickering of a light when you plug in or turn on any electrical equipment in your home, then it's likely that you're overloading your home's main circuit. If that is the case, you should take steps to protect your home from electrical surges as soon as possible. Whole house surge protection will allow you to prevent further damage to your circuit and help you keep your home as safe as possible.
The Baton Rouge electricians at MK Electric Man can install a whole-home surge protection system to help you keep your home and your family safe while also keeping your electrical system as reliable as possible. Call us today to schedule your appointment for service, and we'll be looking forward to assisting you.
Benefits of Surge Protection
Surge protection will help protect your Baton Rouge home's main electrical system from sustaining any serious damages. Any problems with your circuitry that are left untreated can lead to structural damages to your wiring, and may also cause burns and fires within your home.
Using any electrical appliances with overloaded circuits may also cause damage to the appliances themselves. Using any of your home appliances constantly, like a refrigerator, will create a higher risk of the possibility of damage due to the electrical surges that the equipment experiences.
Our electricians can help to make sure that the risk of these damages are minimized with a surge protection system installation. We'll install a surge protection system that will redirect any excess energy your home electrical system generates into the ground. This means that the different appliances you use with your electrical system, as well the electrical system itself, can be kept away from harm.
Surge Protector Maintenance
You should have your surge protection system regularly maintained by a professional electrician in order to ensure its best performance possible. Managing electric flows is no easy task, and mismanagement of electrical surges may result in electrocution, house fires, damage to appliances, or poor appliance performance. Our electricians can manage your home's electrical flow and protect your home and electrical system.
You should never attempt to work on these systems on your own without professional training and experience. For any electrical problems in your Baton Rouge home, always contact a professional.
Making sure that your electrical system is protected from any surges will help to keep your home more comfortable and more secure. Call our electricians at any time and we'll be ready and eager to assist you with any problems you may experience with your electrical system.
Recent Electrical Articles
Electrical repairs aren't just difficult—they're also very dangerous. Without professional experience, you run the risk of damaging your property, and you can also seriously injure yourself or someone else. On top of that, you may be legally required to have a permit before you perform any electrical repairs on Baton Rouge home.
Read More
Electricity is one of the most convenient parts of modern life, but because it's so integral to our everyday lives, it's easy to forget just how dangerous it can be. Electrical systems are a huge part of the comfort and functionality of our homes, but if they're not kept in the best condition possible, they can become major hazards. Keeping your Baton Rouge home's electrical system in great condition needs to be one any homeowner's biggest priorities. Making sure that your electrical system is in the best condition possible can go a long way towards preventing an electrical fire.
Read More
If you're looking for an electrician in Baton Rouge, call MK Electric Man at 225-709-0573, or fill out our online request form.