Cloth Wiring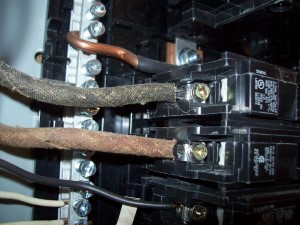 Modern wiring is coated in plastic, but before that was the standard, cloth-covered wiring was used. In most homes that were built before 1960, there is some cloth wiring present. These wires are not inherently dangerous to have in your home, but if you start to notice problems with your electrical system, or if you're renovating your home, it might be a good idea to have your cloth wiring replaced.
At MK Electric Man, our professional Baton Rouge electricians can inspect your home's wiring and help you determine whether any cloth wiring in your home needs to be replaced. We'll guarantee that your home and electrical wiring are totally safe and effective.
What Is Cloth Wiring?
Cloth wiring is an older style of electrical wiring that is composed of copper wire covered in either cotton or rayon. It is typically between 12 and 22 gauge, and it also commonly has paper or rubberized insulation. Some cloth wiring may also use PVC in order to increase the integrity of the wiring. Cloth wiring can come with a ground conductor or without. If it does have a ground wire, the outlets will be three-pronged.
Why Replace Cloth Wiring?
While cloth wiring can be safe, even if it's never been updated, there are still many reasons that you might need to have it replaced. If you're experiencing any power failures in your Baton Rouge home, it could be because of rotten insulation in the wires. One that insulation has started to rot, it will not only make your electrical system less reliable, but it can also prove to be dangerous, and it may eventually lead to a house fire.
Our professionals will be able to determine the current status of your cloth wiring, and we can replace it with industry-standard plastic coated wiring to help ensure that your electrical system is always safe and reliable.
Our Electrical Wiring Experts
At MK Electric Man, our Baton Rouge electricians are extensively experienced, so we can always guarantee that you'll be receiving high quality workmanship from a qualified expert. We'll be able to guarantee that your home's wiring is totally up to code, and we'll do whatever it takes to make sure that you're totally satisfied with all of the services that we provide.
Recent Electrical Articles
As the owner or operator of a commercial property, you have a duty to keep your property safe for your employees, customers, or tenants. Our commercial electrical maintenance services will help you know that your property is always as safe as possible. Even the smallest problems with your commercial electrical system can lead to huge safety concerns, and it's likely that you'll be held responsible for any injuries that occur on your property.
Read More
Electricity is one of the most convenient parts of modern life, but because it's so integral to our everyday lives, it's easy to forget just how dangerous it can be. Electrical systems are a huge part of the comfort and functionality of our homes, but if they're not kept in the best condition possible, they can become major hazards. Keeping your Baton Rouge home's electrical system in great condition needs to be one any homeowner's biggest priorities. Making sure that your electrical system is in the best condition possible can go a long way towards preventing an electrical fire.
Read More
If you're looking for cloth wiring replacement or repair services, call MK Electric Man at 225-709-0573, or fill out our online request form.