Installation of Electrical Equipment in Restaurants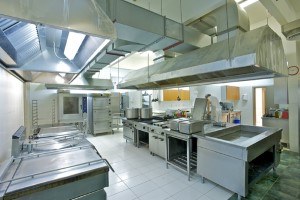 Restaurants rely on a variety of different pieces of electrical equipment every day, and in a fast-paced kitchen environment, you need to know that you can always rely on that equipment. At MK Electric Man, our professional Baton Rouge electricians can install any type of electrical equipment or machinery that your restaurant needs and guarantee that it's safe and reliable at all times. We provide installation, repair, and maintenance services for restaurants throughout the Baton Rouge area.
Our electricians are all licensed, trained, and extensively experienced, so we can always guarantee that you'll be totally satisfied with our services. We understand how important this equipment is to your restaurant on a daily basis, so we don't take our responsibilities lightly. We'll do whatever it takes to provide you with the highest quality installation services possible.
Expansion or Relocation of Restaurants
If you're expanding or relocating your restaurant, the new facility will not have the same set-up as your existing property. Our electricians will be able to help you properly install your new ovens, coolers, hood vents, or any other important electrical equipment. We'll make sure that all of the equipment is ready to support you and your staff through the busiest hours.
Our Restaurant Equipment Installation Services Include:
New Electrical Equipment Installation
Electrical Equipment Installation and Maintenance
Replacement of Electrical Installation
Three Phase Equipment Hookups
Lighting Installation
Health Code Light Requirement Consultations and Installations
Exterior & Interior Accent Lighting
Kitchen Equipment Electrical Repairs and Service
Sign Repair and Maintenance
Electrical Maintenance Services for Restaurants
It's important to keep your Baton Rouge restaurant's electrical equipment in the best condition possible at all times, so you need to have maintenance and repairs performed regularly. Our electricians will be able to quickly and accurately repair any problems that you encounter with your electrical equipment. We also offer preventative maintenance to help ensure that you don't encounter unexpected problems with your electrical equipment.
Recent Electrical Articles
Electrical repairs aren't just difficult—they're also very dangerous. Without professional experience, you run the risk of damaging your property, and you can also seriously injure yourself or someone else. On top of that, you may be legally required to have a permit before you perform any electrical repairs on Baton Rouge home.
Read More
As the owner or operator of a commercial property, you have a duty to keep your property safe for your employees, customers, or tenants. Our commercial electrical maintenance services will help you know that your property is always as safe as possible. Even the smallest problems with your commercial electrical system can lead to huge safety concerns, and it's likely that you'll be held responsible for any injuries that occur on your property.
Read More
If you're looking for an electrician in Baton Rouge specializing in restaurant electrical equipment installation, call MK Electric Man at 225-709-0573, or fill out our online request form.