Electrical Troubleshooting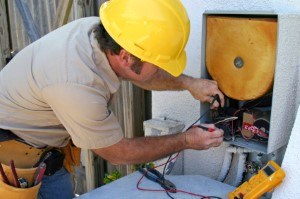 When you have any problems with your home's electrical system, they can be very frustrating. You use your electrical system every day for a myriad of different things, so any problems with electricity in your home often lead to major interruptions in your daily life. More importantly though, electrical problems in your home can also often be very dangerous. When you encounter any problems with your electrical system, it's very important that you have thorough repairs performed.
Our electrical troubleshooting services allow our professional Baton Rouge electricians to find the precise causes of any problems that you've encountered with your electrical system. We'll be able to thoroughly repair the problems and ensure that your electrical system is as safe and functional as possible. We'll troubleshoot your electrical system to guarantee that we're able to repair the root of the problems.
If you're experiencing problems with any part of your electrical system, call our electricians to have troubleshooting and repair services performed as soon as possible.
What's Going On with Your Electrical System?
Some of the most common problems that homeowners encounter with their electrical system include:
Dimming lights, or lights doing strange things.
Appliances behaving abnormally or sporadically malfunctioning.
Unreliable outlets.
Seemingly random power glitches.
Breakers seem to trip at random.
While these problems are common, it's not always easy to figure out what's causing them. Even some professional electricians end up treating only the most apparent symptoms, which means that they'll continue to crop up again and again, and your electrical system will not be safe to use.
Our professional electricians will always find and treat the root of issues so that the entirety of the problem is solved.
Electrical Safety Inspections
It's very important that you call a professional as you notice any problems with your electrical system, but you can also keep your Monroe home as safe as possible by having regular inspections performed by a professional electrician. These inspections are designed to:
Uncover any electrical circuits or equipment in your home that are overloaded
Find any potential fire hazards or shock risks
Reveal any defective electrical work or wiring
Highlight any lack of grounding or bonding
Our electricians will test your wiring system and all of your electrical equipment, and we'll do whatever it takes to guarantee that your home is as safe as possible.
Recent Electrical Articles
Electrical repairs aren't just difficult—they're also very dangerous. Without professional experience, you run the risk of damaging your property, and you can also seriously injure yourself or someone else. On top of that, you may be legally required to have a permit before you perform any electrical repairs on Baton Rouge home.
Read More
Electricity is one of the most convenient parts of modern life, but because it's so integral to our everyday lives, it's easy to forget just how dangerous it can be. Electrical systems are a huge part of the comfort and functionality of our homes, but if they're not kept in the best condition possible, they can become major hazards. Keeping your Baton Rouge home's electrical system in great condition needs to be one any homeowner's biggest priorities. Making sure that your electrical system is in the best condition possible can go a long way towards preventing an electrical fire.
Read More
If you're looking for electrical troubleshooting services, call MK Electric Man at 225-709-0573, or fill out our online request form.