Knob and Tube Wiring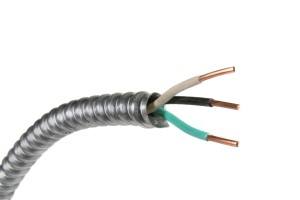 Knob & tube wiring was one of the earliest standardized method for wiring building. Knob and tube wiring can be safe, but while it was once very widely used, it's now considered generally unsafe because of how quickly at can degrade.
If your home still has knob & tube wiring, you most likely need to have it replaced. The Baton Rouge electricians at MK Electric Man can inspect your electrical system and help you determine whether or not your home's wiring needs to be completely replaced, or if any repairs can be made to it.
Knob and Tube Wiring Facts
In some ways, knob and tube wiring is actually superior to modern wiring methods as long as it is correctly installed. However, it's very rare that it can stay fully intact over a long period of time, and if your wiring was installed nearly a century ago, it probably has some problems. So while your knob and tube wiring used to be more than acceptable, if it's still installed in your Baton Rouge home, it is very likely that it can cause some serious issues.
Nevertheless, here are some of the safer things about knob and tube wiring:
Wires were suspended with porcelain knobs, which can help to dissipate heat.
Porcelain tubes added additional protection where it passed through wood.
Unless they were near a connection to a box or fixture, hot and neutral wire were usually kept around three inches apart. Where hot and neutral wires connected, they had an additional protective woven sleeve.
The two main reasons that knob and tube wiring is considered inadequate and unsafe today are:
Knob and tube wiring does not incorporate a ground conductor, which can be extremely dangerous.
Switches were often placed on the neutral wire, which means that they would turn off a circuit, but not turn off the electrical current, which can lead to house fires.
Why Replace Knob & Tube Wiring if It's Working Fine?
Even if your knob and tube wiring seems like it's working fine, there is no way of knowing when something might go wrong, or what kind of hazard it will be in your Baton Rouge home. One of the main reasons knob and tube wiring needs to be replaced is that after being in your home for several years, different people—and not all of them professional electricians — have most likely made improper, unsafe alterations to the wiring. One of the unfortunate things about electrical wiring is that it can operate even when it's improperly installed, which often creates seriously dangerous circumstances.
If your home is currently wired with knob and tube wiring, replacing it is the safest thing you can do. Risking it could lead to injuries, house fires, or worse.
Recent Electrical Articles
As the owner or operator of a commercial property, you have a duty to keep your property safe for your employees, customers, or tenants. Our commercial electrical maintenance services will help you know that your property is always as safe as possible. Even the smallest problems with your commercial electrical system can lead to huge safety concerns, and it's likely that you'll be held responsible for any injuries that occur on your property.
Read More
Electricity is one of the most convenient parts of modern life, but because it's so integral to our everyday lives, it's easy to forget just how dangerous it can be. Electrical systems are a huge part of the comfort and functionality of our homes, but if they're not kept in the best condition possible, they can become major hazards. Keeping your Baton Rouge home's electrical system in great condition needs to be one any homeowner's biggest priorities. Making sure that your electrical system is in the best condition possible can go a long way towards preventing an electrical fire.
Read More
If you're looking for knob and tube wiring replacement or repair services, call MK Electric Man at 225-709-0573, or fill out our online request form.