Why Electrical Repairs Should Never Be a DIY Project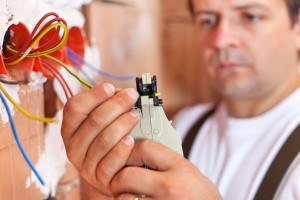 It's not difficult to see why homeowners like to complete repairs and other projects on their homes by themselves. The job gets done for a lower cost, and it's also fulfilling and maybe even fun to do the job on your own. However, even the most experienced homeowner should take a great deal of caution when they're attempting any electrical repairs, and most electrical repairs that should only ever be performed by a qualified professional.
At MK Electric Man, our professional electricians are always ready and eager to help our clients by providing high quality electrical repairs promptly. Our Baton Rouge electricians have extensive training and experience, and all of our work comes with a satisfaction guarantee. Whether there's a flickering light in your home that you can't find the cause of or you need to have your entire home rewired, you can always count on us for quality service and workmanship.
Why Shouldn't You Do It Yourself?
Electrical repairs aren't just difficult—they're also very dangerous. Without professional experience, you run the risk of damaging your property, and you can also seriously injure yourself or someone else. On top of that, you may be legally required to have a permit before you perform any electrical repairs on Baton Rouge home.
Any wiring job needs to be up to local codes and standards that only an expert will have knowledge of. Wiring codes may not seem like a big deal now, but they can be a major hurdle to putting any piece of property on the market.
What Electrical Repairs Can I Do On My Own?
The only electrical work that any amateur should ever attempt to perform are the absolute most basic. If the project is more complicated than changing a light switch, you should definitely hire a professional electrician.
Even if you attempt to perform simpler tasks on your own, you should be very cautious. It's important to make sure you know exactly what you're doing and to turn off all of the power before you begin.
Attempting any electrical repairs can result in serious harm to you, your Baton Rouge property, or any other person involved. It's very easy to be injured during these repairs, and mistakes are very easy to make. Our electricians will always make sure that your entire electrical system is completely safe, not just during repairs, but afterwards as well.
What's the Worst That Could Happen?
If you make the wrong move during an electrical repair, it could lead to a shock or an electrocution. But assuming that you do make it through the repairs without injury, or without damaging any part of your property, there's still a strong chance that any small mistake you made could later prove to be a major problem. In fact, the National Fire Protection Agency names faulty electrical wiring as the leading cause of house fires in the U.S.
When you need any electrical repairs for your home, count on the professional Baton Rouge electricians at MK Electric Man.
If you're looking for an electrical repairs in Baton Rouge, call MK Electric Man at 225-709-0573, or fill out our online request form.